Quadbike Adventures
Combining excitement and adventure, the Cable Bay Adventure Park Quad bike tours are an unforgettable experience where guests can travel through farmland into the quiet splendour of a thousand acre native forest, then climb high into the hills to enjoy the superb coastal views. We offer a range of tours suitable for all skill levels.
Riders must be at least 16 years of age – but anyone 5 years and up can go on tour as a passenger, either on the back of a friend's quad bike or with the guide.
For individual Activities (Prices – Book Now)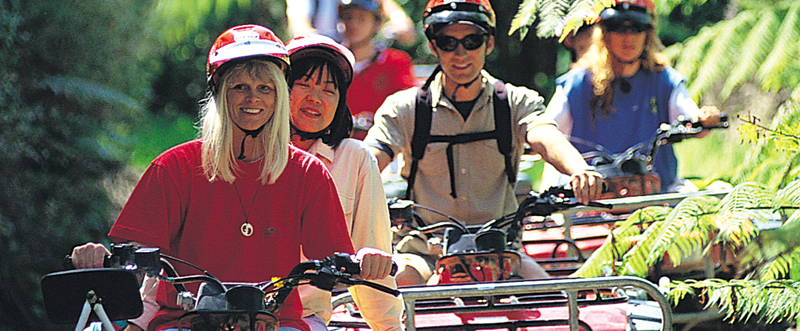 FARM FOREST RIDE
Designed to suit all abilities, this tour follows native forest trails, progressing through sheep fields and along the banks of the river. Last stop, a chance to play on our famous fun track!
TIME: Allow 1 ½ hours.
BAYVIEW CIRCUIT
Our most popular ride. Explore over 14 km of beautiful native forest trails. Ride high to the hilltops, to spectacular coastal scenery, then down through the farmlands. Play on our famous "fun track". Light refreshments included.
TIME: Allow 2 ½ hours.
To make a booking and see current pricing click here